For Sale
What is for sale
Ampro 4000G with wired setup remote
FE Quadscan rackmount version
Transcoder
VGA breakout cable (~15 feet)
Price: $350.00 SOLD
Contact: click for email
Details
Ampro 4000G - modified and tweaked as documented on this website - my best guess is this unit was built in 1992. I would consider this a good setup for someone into the home theater hobby, and not someone who wants to set it up and forget it. That said, when I have folks over to watch a movie - turning it on and watching a movie is exactly what we do - only on occassion will I mess with the convergence with guests over.
Quadscan - this is the original TView Quadscan, version 2.05b. I'm the original owner, and I believe I still have the original box. The manual is stlil available online from Focus Enhancements. This is used to deinterlace & scale 480i (standard definition) material. In my setup I use this for DVD playback.
Transcoder - I documented this unit when I got it in early 2006. It take HDTV over component and converts to a VGA signal, which I then pass through the Quadscan to the projector. This lets me view HDTV from my satellite receiver.
The VGA breakout cable was DIY, but I've been very pleased with the results. It is included in the sale in order to provide a complete solution for the buyer.

Photos
The Ampro 4000G - currently ceiling mounted.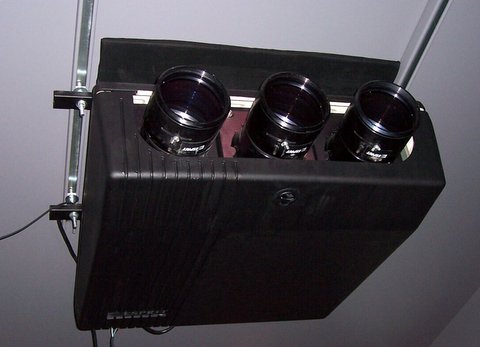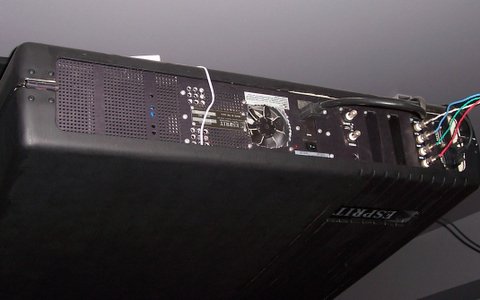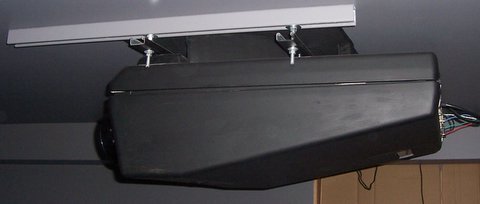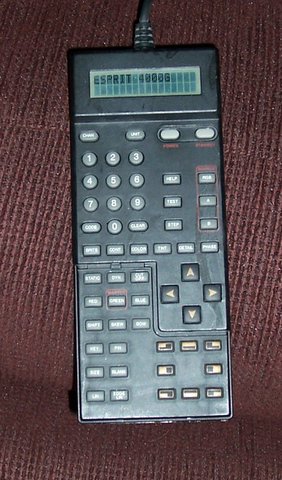 The quadscan


Screenshots
These were taken with minimal warm up time and no convergence tweaking. I simply turned on the projector and took some screen shots. I'm using a fairly inexpensive Kodak 4.1MP camera, flash off with long exposure (2seconds). Click on the images for the full size original.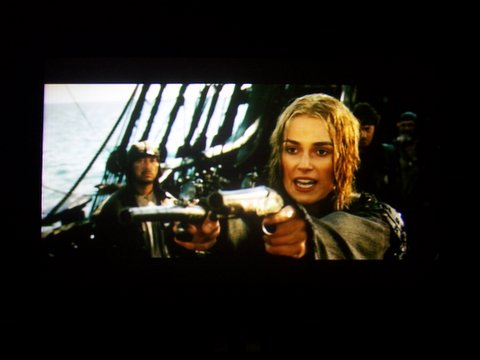 From Pirates of the Caribbean 3. This was the first shot I took and was within 10mins of powering on the projector. If you look closely at the image, you will notice some small convergence errors (hey, no tweaking + minimal warm-up). The screen (not for sale) is 80″x45″ (16:9) - note the excellent black level with a 2.35:1 movie showing very black bars top and bottom.

Another shot from Pirates 3 - this one looks a little bit overexposed compared to what I saw on screen. I'm still very pleased with the gray scale calibration I did earlier this year, having a better colour balance really made a big difference.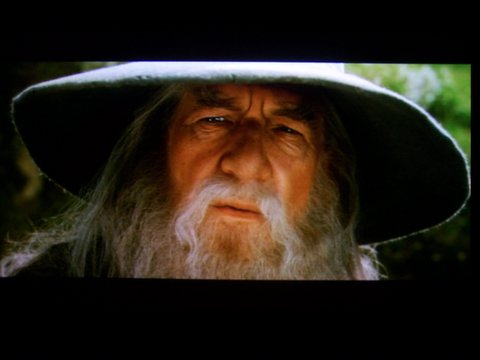 From the 1st Lord of the Rings, a screen shot I've seen other people post. So it may act as a comparison point.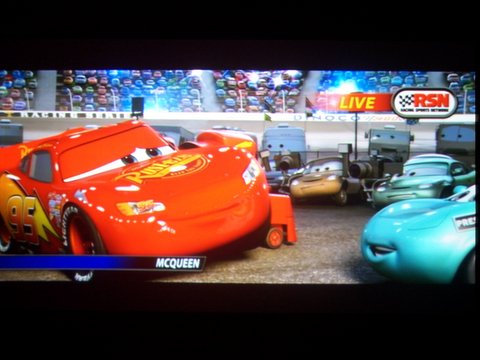 And last a shot from Cars. Animated movies tend to be shown frequently to show off display devices, usually the bright and bold colours wow people and they also tend to mask the poor black level that the display has. Including one shows that the CRT can do both fairly well.