At one point growing up if you asked me what I wanted to do my answer was that I wanted to be a carpenter.  I liked building things, I still do.  Of course, as I got older I realized that being a construction worker was probably going to be hard work so my tune changed.  That and my fascination with computers resulted in me being a software developer.  I still do like to build things.
The other weekend Jenn suggested that I build a picnic table for our daughter Alison.  It seemed like a neat father/daughter project.  Jenn dug up some plans from the internet and we built one.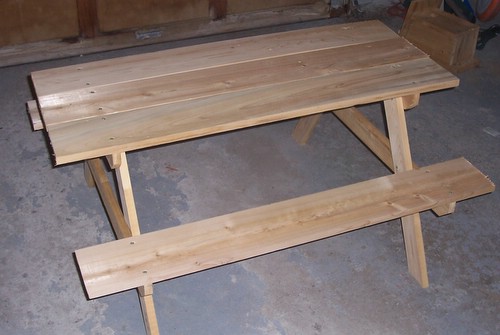 Other than an electric drill, you can do this all with hand tools.  If you're hard core – you can use a manual drill (I've actually got one!) and do without power tools.  Of course, as we're cutting wood here you can get into power saws etc, but as I wanted to let my 3 year old participate it seemed like the fewer power tools involved the better.
Total cost was about $40.  I used white cedar from Lanark Cedar and weatherproof deck screws that I got at the local hardware store.  It took a couple of hours, but if your more organized and need fewer juice breaks you can probably get it built pretty quick.
I originally thought that the 1×3 and 1×6 wood called for by the plans would be pretty skimpy, but as a whole the table is pretty solid.  The table top is about 19″ off the ground, making it impractical for an adult to sit at it.  Thus, if you're the right size to sit at the table – it will hold your weight.  We actually made the table / seats about 6 inches longer than the plans called for.  Overall it was a very satisfying weekend project.