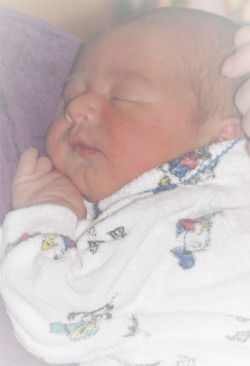 On April 26th our second child arrived.  We knew through the miracle of modern science that we'd be having a boy, so it would have been a bigger surprise if it was a girl.  Of course, the ultrasound doesn't tell you what you child will look like (dark skinned or fair, brown eyes or blue) – furthermore you've got no idea what their personality will be like.
So far things with the baby (Mark) have been good.  Many of our visitors have commented how much he looks like me.  People said the same of our daughter early on, but today my Mom was over with some pictures of me as a child and there was a strong similarity – I wonder if it will stick.
Jenn (mommy) also is doing well.  The birth of a child is an amazing event, having been there for both of our children it's an experience I will never forget (and I'm certain many fathers feel the same way).  Remember that Sunday is Mother's Day – do something nice for your mom, she deserves it.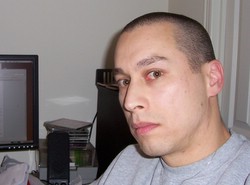 My good friend Ken Walker, his wife Kelly and their family have had a rough time of it lately.  Kelly has been fighting Breast Cancer and is now going through Chemotherapy.  One of the side effects she has experienced is hair loss, and Ken decided to join her by shaving his head.
Today at work John asked if I liked my hair, and suggested it was possibly time for a haircut.  John stopped on the way home for a number one, all round.  I took the DIY haircut route, but the results are similar.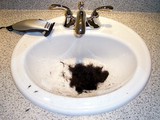 A haircut won't help stop cancer, but I hope to raise a little awareness by talking about Kelly's fight to everyone who notices the haircut.  Maybe you'll read this blog posting and decide to give something to Breast Cancer Action.