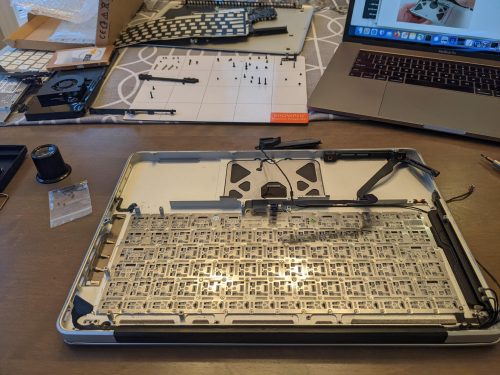 Around 2015 we bought a used Macbook Pro for home use. It was replacing an iMac all in one that had a bad power supply. I didn't realize it at the time, but it was a real powerhouse of a machine if you look at the specs.
Over time it was clear that older mac wasn't keeping up. I had done a few upgrades that helped extend it's life. I'd put in 16GB of RAM – very worth the money. I also later swapped in an inexpensive 480GB SSD. The USB ports got wiggly over time and the keyboard slowly started to fail.
By 2020 it was well past time to replace it, which I did with a Macbook Air M1 (base). Of course I still hung onto the old machine which still worked, but was paired with a bluetooth keyboard. I finally got around to ordering a replacement keyboard from Amazon – a Padarsey.
Of course one of the first places I go for help is iFixit. Unfortunately the repair section for this laptop doesn't seem to include a keyboard replacment. I used the upper case disassembly instructions and they were close enough and helpful. The keyboard is hidden underneath everything, so you have to take almost everything apart to replace it.
Annoyingly there are three different types of screwdrivers you'll need: phillips, torx, and tri-wing. I'm really happy with the Kingsdun 60-in-1 set I got recently. It's got lots of sizes and it's bailed me out a few times. The bits are not the highest quality, but having the right shape and size makes things possible.
I ended up re-using the existing keyboard screws (there were so many of them!) instead of the ones that came with the new keyboard. I was also grateful for my magnetic mat which helped keep all of the screws organized. Re-using the back-light wasn't difficult at all.
It was with relief that I saw the system boot up right way after I'd re-assembled it. There are a lot of little bits to get right. It was an epic repair and I'm not sure I'd rush to do it again. Now with a fully working keyboard it'll continue to get some light use as a secondary machine.