A couple of years ago I picked up a used laptop (Gateway Solo 5150) for a great price.  Sound doesn't work, but paired up with a wifi card it makes a great remote terminal for Jenn's Mac Mini.  Sadly, the other day the hard drive packed it in.  Instead of treating this like an excuse to buy a laptop that has sound (and a lot more horse power) I thought it would be worth considering replacing the drive with a compact flash card – basically a DIY Solid State Drive (SSD).
Checking prices locally, it seemed I could pick up a CF to 2.5 IDE adapter for $24.  Considering a cheap 1Gig CF card was $13 – paying nearly double just to interface it seemed a bit steep.  Well, eBay to the rescue.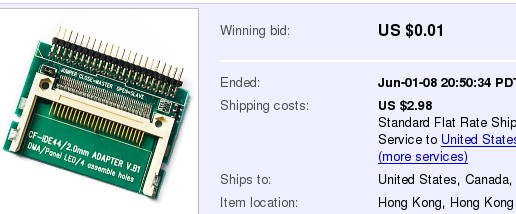 Yup, I was lucky enough to score one for a penny.  It sort of makes you want to pick up that penny the next time you see one on the ground.  While many of the 1 cent auctions seems to hit you on shipping, this one was really just $2.98 to Canada.  The amount that came off my credit card via PayPal was $3.05.
Shipping insurance was $1.50 – and while normally I do consider it worthwhile, this time I figured paying a 50% premium to insure it seemed silly.  Well it arrived safely today – after the expected delay due to shipping method and source (Hong Kong).
The seller on eBay was alpinetopline, which seems to be related to suntekstore.com.  I'll certainly not hesitate to give these folk more business based on this transaction as it went smoothly and as expected.  If you wanted to avoid the eBay experience, you can buy exactly the same CF to 2.5 IDE adapter from suntekstore.com directly.
A little fiddling with the laptop CMOS setup to make an old 512MB CF card I had around detect properly, and a DOS boot floppy (yup, this laptop has a floppy) and I was good to go.  Now the fun of installing Puppy Linux on it again.