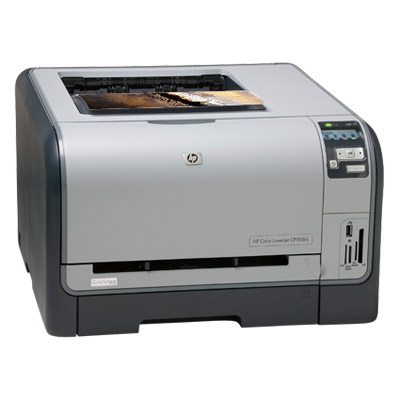 So school is coming, and that gives me an excuse to buy a new printer. Back in 2005 I was tired of feeding my inkjet printer new printer cartridges at nearly $70 a pop, so I bought a B&W Samsung Laser printer which has served us very well.  So far I've only had to refill it once.
Since 2005, colour laser printer prices have fallen steadily.  You can now pick up one around the $150 mark if you do a little shopping.  However, toner cartridges are still very expensive – and it almost makes sense to buy a new printer when you run out.  Of course laser printers are not immune to the same "starter" cartridge trick that is played with inkjet printers – giving you a fraction (1/2 or worse) the toner that a full refill would.
Based on my previous experience with refilling the Samsung, I was keen to get another refill compatible printer.  The Samsung CLP-135 can be found very cheaply, but the toner cartridge has a chip which prevents refills from working (this may change in the future).  The HP CP1518ni can be refilled, but requires reset chips which come as part of 0f the refill kit. (I'll probably get my refill kit via eBay closer to when I need to refill the printer)
I purchased the CP1518ni from FutureShop.ca (free shipping over $39), unfortunately there are no more left at this price ($230) currently.  They also had the description incorrect, as it indicated that the unit came with only 1 toner (black) cartridge – the printer in fact had all 4 toners installed.  I was comfortable shopping with FS due to their easy return it to the brick and mortar store policy.
If you're keen to pick one of these up, CostCo.ca has them for $250, and staples.ca has a similar (but not as good) sale on.  I'm a bit surprised that the US prices for the same printer are quite a bit higher (basically $400).  Rarely are Canadian prices for this type of thing better than US prices.  If you want to go cheaper, the HP CP1215 is similar but lacks the network interface and only has drivers for Windows.
Shipping was fast – ordered on Sunday, was here by Wednesday.  The printer itself is quite heavy (40lbs), and quite a bit larger (15.7 x 17.8 x 10.0 inches) than the B&W laser we have.   Setting it up was a breeze, as it is a network printer it just needed power and a net cable.  The software (driver) was Mac OSX compatible, and the printer advertises itself using Bonjour on the network.  I haven't tried to print from Linux, but searching on the net seems to indicate it can be done without too much pain.
The first colour print was a full page photo onto regular paper.  If you haven't seen a colour laser print out, then the best description is that it looks like a picture from the newspaper.  Jenn later printed out an activity chart (in colour) and that looked really good – and this is more typical of what I'd expect to print (think business graphics).  I'm sure school projects will end up looking sharp (and colourful).  Alison was very excited that we had a new printer, but we had to explain to her that the colour printer would not do the colouring of a B&W colouring page from the net.