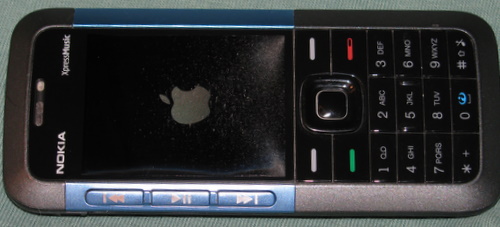 Well way back in March of this year I got myself a new cell phone, the Nokia 5310.  Now that I've had it for a good part of the year, it is overdue for a review posting. Many of my friends have iPhones, BlackBerries, or Android (HTC) phones – giving me some serious gadget lust.  I've read other reviews of the 5310 which put it in the smartphone category, and while it is a good phone and has reasonable performance and functionality – it isn't in the same league as an iPhone.
Let's start with what I like a lot about the Nokia 5310: Battery life – I charge my phone once a week, Sunday night. Granted I'm not a heavy user of the phone: I'll log 15mins of calls during a given week, a few text messages, and this week I listened to MP3's on it for an hour – all on one charge.  My number two feature is the form factor, this phone is small.  Many do not like the candybar style – but for me, I find it works.  Up third is voice / call quality.  My experience with Nokia phones is that they deliver great voice quality, and the 5310 has not let me down.
Ok, on to a few negatives.  The camera is pretty poor, it feel slow and needs bright well lit scenes to take pictures that don't totally stink.  The display while nice and readable, even in full sun – seems to have two small dust leaks in the bottom corners.  The result of the dust leak is visible in the photos of the phone, it doesn't impair day to day use but it is sort of annoying.  That's it for the negatives really, I might complain a little about the buttons not being very positive feeling but I've gotten use to them.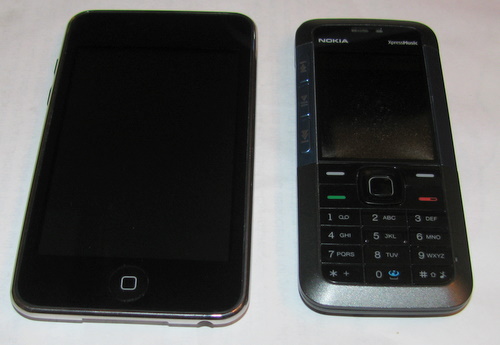 The pictures above shows my iPod Touch and the Nokia 5310, it really puts into perspective how small this phone is.
Other features that I've found useful: Bluetooth support, both headsets and data connectivity over bluetooth.  This allows me to synchronize the address book with my computer and move pictures, music, or MIDP (java) to and from the phone.  There is also a USB cable interface (good for firmware updates).  It has a standard 3.5mm headphone jack, and it does support MP3 playback (the quality of the music playback was very good).  There is a speaker on the back, and it is quite loud (great for speaker phone calls).  It has a micro SD slot, and I've got a 1Gb card in there but it will support up to 16Gb.  The screen resolution is 320×240 and as I mentioned above, it is quite readable in even full daylight.
In summary – it a great little phone.  The battery life is awesome and let's me taunt my iPhone friends.  I don't think any of the carriers are offering these anymore, but you can find them used for $120-$175 quite easily (in fact, I purchased mine used).
Now you might have noticed the Apple logo on the screen in the first picture, there is a story behind that.  This specific Nokia 5310 is unlocked, and unbranded (some say debranded).  Read on for the gory details..
For various reasons the carriers want the ability to lock a given handset to their network.  With an unlocked handset you can swap SIM cards and effectively change providers, this can be very useful if you travel abroad.  Some carriers will allow you to unlock a handset after you've been a paying customer of theirs for a given period of time.  There are also many folks who offer unlocking services for reasonable fees.  In my case the Nokia 5310 I purchased was unlocked, allowing me to use it on Fido who didn't offer this model of phone.
An unbranded phone is one that is running the generic firmware.  Many of the carriers customize the handsets to have applications that are specific to their network services. More often the customized firmware prevents the use of custom ring tones except those purchased through the carrier.  Unbranding and unlocking are completely independent concepts, you can have an unbranded and locked phone (or an unlocked, but branded phone).
My Nokia 5310 while unlocked, was not unbranded.  Thus it still had the software customization (and limitations) of the carrier that sold the phone initially.  A lot of great cell phone information can be found on the HowardForums.  There are two relevant threads on unbranding the 5310 – one for T-Mobile, and the other for Rogers.  I found this website to be a useful overview of the unbranding process and it provided this insight into the product code:
All Nokia handsets have a Product code. This Product code is specific to:

The Model, e,g, N95, N91, 6288 etc.
The appearance e.g. Black, White, Silver finish
The Language and region of the handset
The Network that customised it
The unbranding process is effectively reaching into the firmware and tweaking the product code. Once we change the product code to a generic code, we can apply the unbranded (generic) firmware.  Here is a blog posting covering the firmware upgrade process.
Step 1 was to download and install the Nokia Software Suite. Once it is installed, sync your phone using the USB cable giving you both a backup of any data and confidence that you can talk to the phone over USB.
Step 2 is to download and install Nemesis Service Suite (NSS).  When asked on the Hardware Selection Page choose Virtual USB Device. You may need to reboot after the install, I did reboot according to my notes.
Step 3 without either the Nokia PC suite or NSS running connect the phone to USB, you will want to chose "nokia mode" vs. having it act as a USB drive / MP3 player.  You should have the phone plugged into the charger too, ensuring we will not lose power at any point during this process.
Step 4 launch NSS, choose scan phone.  It should detect your Nokia 5310.  Now click on Phone Info to grab data off your phone.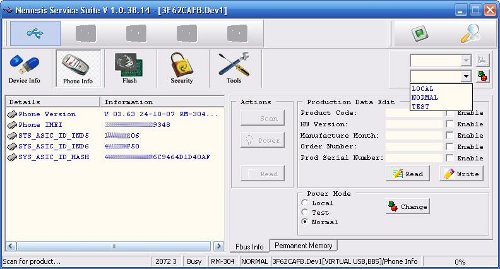 Step 5 switch to local power mode.  This is a pull down box on the upper right side of the NSS window.  On the left you should see details for your phone (IMEI etc)
Step 6 click on the Read button.  It should grab the product data.
Step 7 modify the product code to the new unbranded version (for my phone it was 0558988).  [take a deep breath here, we're about to write back to the phone].  Check the enable box to the right of the product code, and click the Write button.
Step 8 reset phone via NSS (ie: restore to factory settings).
Step 9 return phone to normal power mode.
Step 10 reboot phone.
[disclaimer: these steps were reproduced from some rough notes I took over 6 months ago, hopefully they are accurate and correct]
Now we have a phone that has the unbranded product code, so its just a matter of updating the firmware to get the new features.  Visit the Nokia software update page and enter your product code (the new unbranded code: 0558988).  This will take 20mins or so, don't panic.
Now you can do neat stuff like install custom ring tones or new themes.