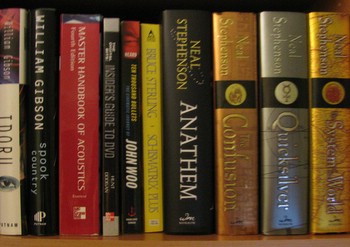 I read regularly – aside from spending countless hours in front of a computer screen I also like to sit down with a book.  My collection is pretty heavily skewed towards speculative fiction.  Similar to my DVD collection which I re-watch, I like to re-read books.  Some of the classics (Dune) I'll read every couple of years, most go longer between reads – but there is hardly a book in my collection I haven't read twice.
This year I've read a lot of Neal Stephenson's work – having finally got my hands on the last two books in the Baroque Cycle, I re-read Quicksilver and worked my way through the whole series.  If you haven't read any Neal Stephenson, start with Snow Crash.  Lots of his more recent work is more of a slog through, and the style won't suit everyone – I personally enjoy it, but it does take a few hundred pages to get into.  I very recently finished Anathem – again, not for everyone, but I thought it was a great read.
There have also been a few eBooks I've read through.  I still really like having a physical book, so the eBooks I've read have been free ones – but there are some good free books out there, and its possibly going to get me hooked on eBooks.
I've been reading these on my NDS using dslibris.  Using OpenOffice.org to export to xhtml, I did have a problem with the export but found this helpful explaination that lead to the fix.  I did already have a java runtime installed, but OpenOffice.org needed to be configured to know about it.
Books are sort of like software, eBooks more so.  It is interesting to see what has happened to music through the digital revolution (mp3's), and now we're starting to see TV and Movies go through the same transformation.   What happens when matter assemblers become available?  Suddenly even physical objects will be trivial to replicate – once the cost gets driven down, what then?  Time to go read some fiction..