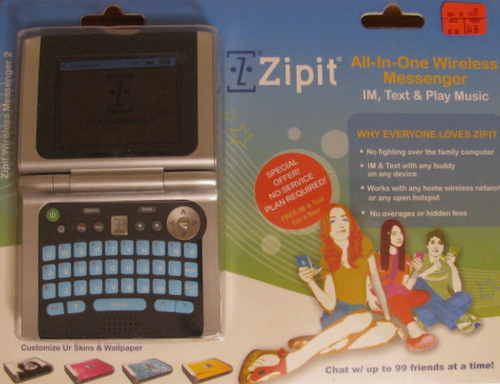 So I must thank my good friend Andrew C for picking one of these up for me at his local Target store and shipping it up to me in Canada.   The device itself is about the size and form factor of the Gameboy Advance SP, however there is a lot more under the hood.  The Zipit2 boasts a 320×240 colour display, 312MHz XScale (ARM), 32MB RAM, 8MB flash, Mini-SD expansion, backlit querty thumb keyboard, D_Pad and music controls, 802.11 B/G, and a 1000Mah LiOn battery.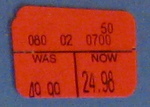 The retail price is $49.99, but as you can see it was marked down to under $25!
For the casual consumer, this device allows for IM with AIM, Yahoo, and MSN.  It appears they also have a gateway to a wide range of US cell phone providers (and one Canadian – Fido) allowing for SMS messages to be sent / received.  It will play music and display photos from the Mini-SD card.  There is also support for internet radio.  While you need to use your own WiFi to connect to the internet, you are reliant on the zipitwireless.com site for the IM connectivity to the device.  The 1st year of service is free and after that its $29.95 a year.  If you've got teenagers and not enough computers, this is a great solution.  Another benefit is a side-effect of the limitations of the device – no malware or virus issues, constrained functionality results in a limited amount of mischief they can get into.
Oh yeah, and it runs Linux.  So of course the hacking community has has its way with this device and you can now get an "open" Linux build for it.  There is also a fairly dated wiki hosted by zipitwireless, however the irc logs seem to be fairly current.  I was particulary excited to see that the ScummVM was able to run Full Throttle – something I plan to setup as I actually own the original game.
I'll update with another post once I've got the firmware modified – you knew that was coming right?