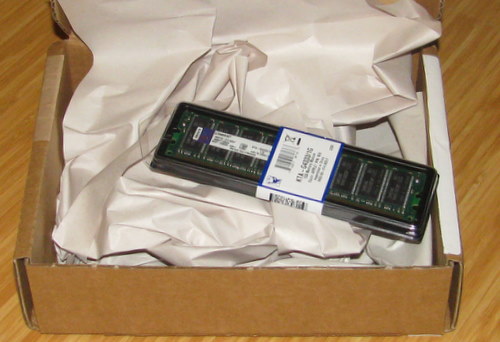 RAM is one of the most important aspects of your computer system, but spending a lot on fast RAM is usually not worth it – better to get more RAM that is cheaper. I'll frequently just buy whatever is cheapest that meets the specs I need.
Back in 2006 when I bought a refurbished Mac Mini (G4) from Apple it came with 512MB of RAM. The PPC Mini was limited to a single RAM slot, and 512MB was ok – but not really enough.
For Macs there was RAM specially tagged as compatible, or I could go the aftermarket route and just buy some RAM with the same specifications. If my memory is correct, the price delta was 30% or so. In the end, even at the premium price (about $100) the 1Gb of RAM I needed wasn't a huge expense so I went for the guaranteed to work. The memory arrived, it worked fine until just recently.
The mini stopped booting, running a memory test resulted in it indicating the RAM was bad (I thought maybe the hard drive had gone). As Kingston has a lifetime warranty I figured it was worth seeing if I could get a free replacement (vs. a $30 price for a new unit at todays RAM cost).
Wow! Kingston's support/warranty process is amazingly good.
I called and almost immediately got a real live person. It was really hassle free, they asked why I thought the RAM was bad and I said I had run a self test on it – and that was it. I was immediately in line for a RMA #.
The RMA process is really slick. Once you get the right documentation from Kingston (via email!) – you only need to package the RAM and drop it off at a FedEx location. Kingston picks up the cost of shipping it both ways.
The shipping was fast (and free to me):
Oct 4, 2011 9:45 AM Delivered FOURNTAN VALLEY, CA
Oct 4, 2011 8:57 AM On FedEx vehicle for delivery COSTA MESA, CA
Oct 4, 2011 8:03 AM At local FedEx facility COSTA MESA, CA
Oct 4, 2011 5:59 AM In transit LOS ANGELES, CA
Oct 4, 2011 4:04 AM Departed FedEx location INDIANAPOLIS, IN
Oct 4, 2011 2:04 AM International shipment release INDIANAPOLIS, IN
Oct 4, 2011 12:27 AM Arrived at FedEx location INDIANAPOLIS, IN
Oct 3, 2011 10:44 PM In transit MIRABEL, PQ
Oct 3, 2011 8:04 PM In transit OTTAWA, ON
Oct 3, 2011 6:23 PM Left FedEx origin facility OTTAWA, ON
Oct 3, 2011 5:16 PM Picked up OTTAWA, ON

A brand new stick of RAM arrived on my doorstep on October 12th (again via FedEx). It was amusingly over packaged (as you can tell from the photo at the top of this post). Of course it works perfectly.
Sure I paid Kingston a premium form Mac specific RAM, but that was back in 2006. To get such red carpet service 5 years after I bought something is really amazing. Their warranty also covers the regular ValueRAM etc, so you should get similar great service. They usually have very good pricing on their RAM, but given my experience with the warranty even if they aren't the best price it will be tempting to spend a few bucks more to get Kingston.