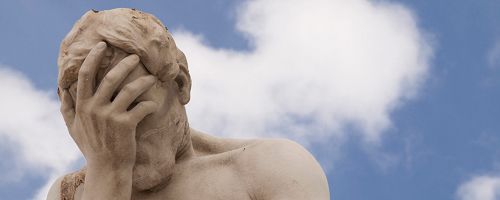 photo by 
cesarastudillo
I'd been with NCF as my internet provider for a long time, I'd even written up a review of the service. I still think it's a good organization to support, but I can no longer recommend it as a good ISP to use. My recent experiences with them have led me to believe they do not have the technical skills available to assist their customers effectively, and they repeatedly failed to call me back as promised.
I had decided on Teksavvy based on success my friends have had, their overall reputation and my interactions with their sales and support staff answering my questions. I'm still on a DSL line, but now using 15/1 which is the fastest available to my home at the moment. I would have stayed with NCF but the upgrade cost from 6MB to the 15/1 speed was going to cost me $89.95 [this has recently changed to a $49.95] whereas the admin cost at Teksavvy was $50. I had picked April 21st as my switch-over date and set this up with the two providers.
This is when the disaster happened. We were over one week without internet service at home. Not fun. The big bad guy here is Bell, but it was handled very poorly by NCF staff.
The long story: I sent in the cancellation to NCF on March 31st. Set the date as Apr 21st. They have a form you submit to do this – however there is no email / indication that the form worked or was waiting to be processed. 24hrs later I called in to check if it was in queue, someone at the NCF office was able to tell me that it was indeed received.
I then signed up for Teksavvy starting as of the 21st.
Monday April 7th just before noon our home internet was disabled. No more DSL signal. A call to the NCF office was frustrating, I was told that the order to Bell was done correctly and the 21st was the right date. They failed to take any effective action to resolve my problem.
Tuesday April 8th. More calls to NCF, sounds now like Bell processed the disconnect order early. My only recourse? Sign up again with NCF, pay the admin fee and wait 5 business days to be reconnected. WTF?! Deep breathing. Call Teksavvy see if they can expedite my sign up with them, frustratingly I still have to wait the 5 days as that's a Bell delay. Internet turn on day scheduled for the 15th.
Thursday April 9th. Call into NCF, talk to someone sort of useful at the office who is able to tell me the history of this screw up at NCF and what's happened with Bell. He's reasonable and says that they'll have a refund to my account discussed. Promised to call me back with an update – still no call to date [as of this posting].
Sunday April 13th. Yes, we're still without home internet. Called at 4pm by a Bell technician who is doing the outside work to connect us to DSL. I tell him my sob story about being out and is it possible we might have service today? He calls me back about an hour later and says that the outside work is all done, line looks good to go, but he was unable to get the Bell office to connect us early.  We need to wait for the Tuesday install date.
Tuesday April 15th, 3am. Dog wakes me up for some reason. He wants to go sit on the deck outside and look at the moon. Grr. Well, I'm up anyways – power cycle the DSL modem. 3:30am we're on the internet again. 15/1 speed, still connecting through NCF [more evidence this was entirely Bell messing this up]. In the morning I setup my login / password to Teksavvy and switch over to that service entirely.
As usual, at the start of using a new service I end up talking with Teksavvy support multiple times. It hasn't all been perfect, but in general I've had lots of straight answers from the people there and it's easy to get to real technical people.