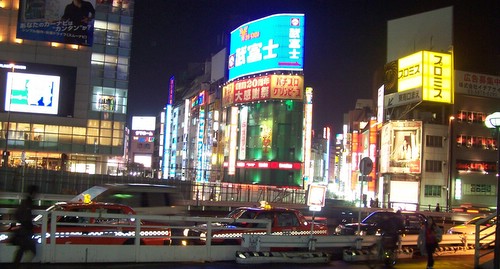 I was in Japan last week for business.  While we had been talking about the possibility of going for a while, I found out less than 24hrs before getting on a plane (Jenn was very understanding).  This was my first time across the Pacific Ocean, and with a 14hr leg (single flight) in my trip, I set a new personal record for being stuck on a plance (in economy no less).  The time delta was 14hrs meaning that at 7am in Japan, it was 5pm the previous day at home.
I was staying in Tokyo, near Shinjuku at the Hyatt Regency.  It turns out this was very close to the Park Hyatt that was featured in the movie Lost in Translation (which if you haven't seen, is a good movie).  The Hyatt was a nice hotel, certainly meeting western standards for space.
Since I was there for business, I was a little concerned about making the right first impression.  I found a few links that helped me not feel like a total idiot.  Generally the Japanese people feel very polite, the bowing really struck me.  The general care they take presenting you with a bill is quite nice, it is done similar to the business card exchange which is very ritualized.
Thankfully, the company we were visiting is a little less traditional and tends to style itself after a Silicon Valley business.  One thing that I would try to do for another trip is make sure I have a few small token gifts from Canada to share with my hosts.
Since the employees of the company were Japanese, we were using a translator.  While some of them did speak English, there was a varying level of abilty with the language.  Since I don't speak any Japanese the translator was a huge help.  Anyone who has head me speak knows how quickly I can go – this won't work with a translator.  It took some getting used to, breaking ideas down into short snippets that could be translated without losing any of the technical content (just because they don't speak the same language, doesn't make them simpletons).
On day 3 I noticed that the translator was fixing my errors in naming folk by adding -san,  and I was honoured to hear Andrew-san a number of times.  I'll go out on a limb a little here as I don't know, but it also seemed to take a little time to break down some of the trust barriers – this may be a cultural issue, or just the standard technical problem of everyone is an idiot until proven otherwise.  By the afternoon of the 3rd day we were all jamming at the whiteboard discussing issues, and it was clear that there was understanding (both ways) even without translation.
We had dinners out as a group (without the translator) and there were enough folks with both English and Japanese on both the customer and IBM side to help things go smoothly enough, they were also especially helpful in instructing us how to eat dinner as many of the dishes were unfamiliar.  We ate in restaurants with low tables but with a cut-out below for your legs, we also removed our shoes before entering the eating area.  While the food was unfamiliar, it was all good. My best guess after the fact is that the meal was ichijū-sansai style.  The soup was cooked at the table and I couldn't help but compare it to a DIY meal such as fajitas (which I always want a discount on as I'm doing part of the worK).
It was cool to see that Bunnie was in Japan at the same time, and blogging about both food and some of the neat things to see in Japan.  Unfortunately I didn't have time to explore some of the things he talked about, but it did help me get my head around the culture a little more.  In the little time I did have free, I did a little souvenier shopping – while I could navigate the subway and the stores, the language barrier was significant. Unfortunately I didn't manage to find a 100 yen shop (dollar store), but did explore a few of the 10+ story department stores.  I ended up buying a few things at a shop on the 45th floor of the Tokyo Metropolitan Government Offices  which gives an amazing view of the city.  In the elevator ride down it was a pretty tight right with about 8 other people, but none of them were above the level of my shoulder – Japan isn't built for people who are 6 feet tall.
I had been told that McDonald's was "the same, but not the same – you have to try it".  The menu certainly had some unfamiliar selections on it such as Ebi Filet-O (shrimp burgers).  When I got to the airport the food selection was pretty limited but there was a McDonald's so I figured why not?  The double Big-Mac and fries, tasted the same (or possibly better) than the ones I'm used to.  I did also eat out of one of the ubiquitous vending machines, the ice cream was very good.
While I was there the weather was mostly overcast, but around 10C to 15C.  During the day I'd forego having a jacket which made me stand out in crowds.  Generally the Japanese were bundled up in jackets as it was considered "cold", but as I was primarily in the office (24C), subways and stores I found it hot if I had a jacket on.  It did cool off in the evenings, and many of the commuters had very long trips (1hr+) which might have required more variation in clothing.  In the evenings I did wear a jacket, I'm Canadian – not crazy.
It was a good trip, but I'm really glad to not be on a plane and staying close to home for a while.