IBM runs an internship (COOP) program called IBM Extreme Blue.  This is in addition to the regular internship (COOP) program, the difference is that the extreme blue program is the "best of the best".  There are only a few IBM labs that host these projects, but they select students from a very broad base of students who have worked for IBM in previous work terms.
The teams are composed of 3 students focused on technical work, and 1 MBA who handles the business side of things.  Their goal is to take a concept and create a compelling business case for further investment (by IBM).  Think of this as a Start-Up on steroids – they've got less than 4 months to do it all.
This week all of the extreme blue students are gathered in Armonk, N.Y. where they will deliver their finely tuned pitches.  The audience will be composed of their fellow students, IBM mentors and most importantly IBM Executives.  Sam Palmisano is usually able to find time to take a brief tour of the booths that the students have setup, with a special stop at one of them for a deeper dive.
The Ottawa J9 team hosted an extreme blue project this year.  We used this to help take one of our prototype concepts further towards a complete business case.  I have to confess this is a bit of a teaser post – since I can't disclose very much about the project.  You'll have to speculate wildly based on the following image: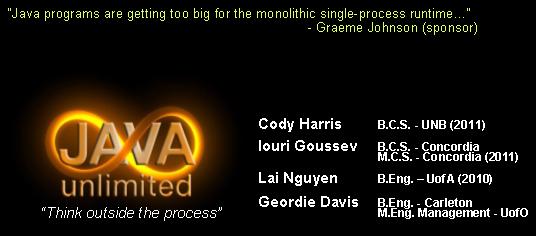 You may want to check out the video clip from the local news station that talks about the IBM Ottawa Extreme Blue expo.
Our team has a long history of hiring our COOP students, its a great deal both ways.  The students know what they are walking into, and we're got a better idea of what they are capable of.  Even I was a COOP student for the VM team way back when.  Each of the names involved with this project are top notch students -whoever manages to hire them will be lucky (and yes, we'll be trying to).
Good luck in N.Y. this week guys!