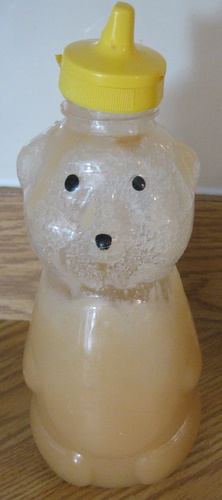 This may be old news for many, and a couple of quick web searches show plenty of good advice on this matter.  Still, I thought it was very cool when I actually tried it out so I thought I'd write it up.
Liquid honey tends to crystallize after a period of time, often much less time than  you will be able to consume all of it. The process for fixing this is quite simple:
Find a container that the honey jar will fit into
Put the honey jar in the container
Fill the container with boiling water
Wait
Repeat until you've got completely liquid honey
I tend to wait about 10 minutes before repeating the cycle. It usually takes 2 or 3 cycles for me to render the entire honey jar liquid again.  If you stop before its done, it will much more quickly re-crystallize (days vs. weeks).  Sometimes I turn my jar upside-down to get full coverage.  Paper labels probably won't make it past the first round of this (this explains why my jar is naked).
Here are a series of photos showing the process.