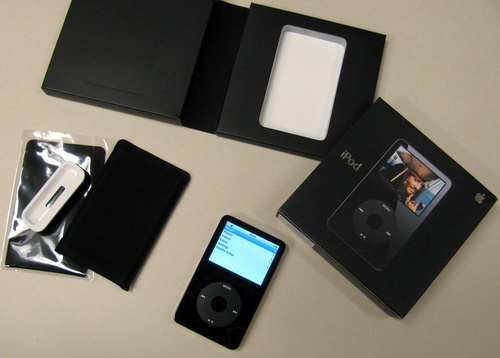 It is not uncommon to have purchased something from eBay, I've had an account for several years and tend to buy something every couple of months.  Most of the items I buy on eBay are low cost and generally hard to find locally.  I'd often thought about selling stuff on eBay but just never got started.. until now.
What started this off was a sweep through some of the gadgets and whatnot that we've got cluttering up our home office.  This stuff has to go, and if it has value let's sell it – otherwise its time to eCycle it.  I initially thought I'd start by selling some N64 games, but the game values (<$5) far outweigh the shipping costs.  So I figured I'd move onto the iPod that was no longer being loved ever since the iTouch arrived.
I used eBay to research what the going price was for an iPod in the condition mine was, and priced it on the lower end as a starting point.  I set a $10 USD flat rate for shipping since if I shipped to California it would be around $8 shipping + $2 for the bubble mailer.  Had someone in Vancouver bought it, I would have lost money on the flat rate shipping (about $4)!  Shipping is the first real hurdle you need to get over as a seller, and I think it is worse for Canadians (both as sellers, and buyers).
Lucky me, as a first time seller my first 5 listings are fee free!  Cool.  Of course, it took nearly 24hrs for my item to appear in any search results (trust me I tried).  No worries, it was a 7 day listing so lots of time for people to find it and bid.
Days passed.  I watched several broken iPod's get more bidding activity and a higher price than my item.  I could see from the eBay dashboard that after 6 days, only 5 page views of my item had happened (2 which were mine!).  Then on the 6th day, the watchers arrived – 8 watchers tracking my item – there is hope.  The number of views rapidly climbed.
With less than 6 hours to go in the auction the bidding started.  My $30USD start price, jumped up rapidly.  17 bids later it sold for $76USD + $10USD shipping, the winning bid was made in the last minute of the auction from a bidder with no previous bids on my item.
After that it was smooth sailing.  Payment was via PayPal (who take a small percentage).  A quick trip to the post office and the iPod is on its way to the winner.  It has been an interesting experience, one I plan to repeat.