Back nearly 2 years ago I wrote about the lack of "free" wifi at the Ottawa airport, I was pleased to find out they now offer free wifi. I'm not opposed to paying for wifi access, but most of the providers charge more than I'm willing to pay.  If it's not free then I think theStarbucks model of buy something (a coffee card) and get access is a great way to go.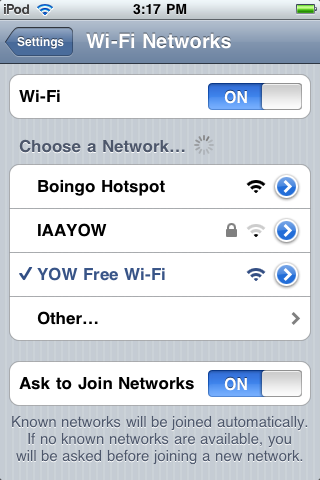 As you can see from the image, there is still an optional pay service at YOW – but the free one is clearly marked.  I ran a quick speedtest that showed 186kbps down / 26kbps up – not very fast but I don't expect much for free.  It worked well enough to check twitter and get to my web mail.
For this trip, I was headed to Florida.  The Orlando airport (MCO) also has free wifi, currently it is supported by Google through the holiday season but it is always free.  I've been in several US airports which also have free wifi year round, and given that you'll likely end up waiting around for your flight having internet access is a great way to while away the time.
Ideally any location you end up waiting in for some undetermined amount of time should have (very) cheap or free internet.  My car dealership has free wifi in the waiting area, why not extend this to doctors offices, bus stops, train stations, banks, etc?  Imagine if the government decided that all of its public service centers (think passport office) would have free wifi – I'd be way more willing to sit patiently and wait.
One last note – I'd like to recommend the WiFi Get app for the iPhone/iPod Touch. I think it's a must have app if you travel with your device.