I've now had the G1 for a few weeks and wanted to write a little about some of my experience so far.  Previous to getting the G1 I had started to carry my iPod Touch with me on a regular basis, I still use the iPod Touch but I can imagine living without it.
Let's talk about some of the basics.  I wanted to carry some photos of my family around – this was super easy to do and very Linux friendly.  Simply connect the phone to the Linux machine via USB, then on the phone choose to mount as a USB device. The PC will now detect a USB drive and hook you up.  Copying photos into a sub-folder of /DCIM was all I needed to have them appear in the gallery.  To disconnect, umount on your PC first – then on the phone.  Moving music is similarly easy.
If you're willing to "go Google" then your Gmail, Google Calendar and Google Contacts will all sync to the device. I've previously talked about the state of Linux address books, and the calendar situation seems to be similarly dire. Email I'm still holding out on probably more because I'm stubborn.
A few tips on configuring your Android phone.  If you want to exclusively use wifi (as I do, since I'm not using a data plan) then you'll want fiddle with the advanced wifi menu.  You certainly want to run CyanogenMod or similar, and when you do that you'll want to consider using the spare parts option to keep the "Home app in memory" which for me seems to improve overall responsiveness.
Moving from the iPod Touch to the G1 I gained a camera, GPS, a built in microphone and phone functionality.  In general the same types of apps are available, so you aren't missing out on any function.  The iPod is much slicker than the G1, the browser is faster the gestures and general UI experience is more uniform. I'm still completely sold on the Android path, the ability to tinker with the device is greater and it is possible to use it with a Linux based desktop without standing on your head.
Read on for a comparison between the apps I have on my iPod Touch vs. what is on my Android phone.
For comparison let's look at the two screens I use most on the iPod Touch.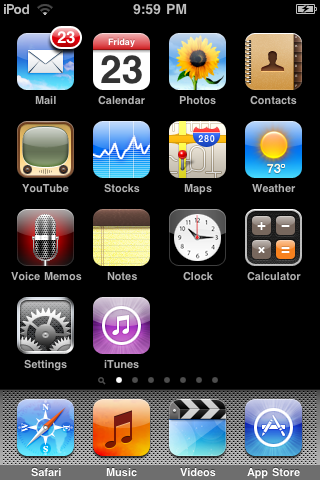 Some might find this familiar as it is essentially the default layout of the 1st screen.  I did find that over time I ended up using almost all of the functions with the exception of the Calendar, and Voice Memos.  I don't like the Mail client all that much, but it works to read email.  There are probably better Weather apps, but the stock one did ok for my needs. The iTunes store link was a nice surprise in terms of useful content.  Safari probably got the most use, if I had to be critical I'd wish for more than 8 tabs – but it really is a great experience (I don't miss flash at all).
Now the 2nd screen is where things get more interesting. All of these apps are free with th exception of OffMaps (and offline map based on openstreetmaps) and TouchTerm (a SSH client). The most used application is probably Stanza, an eBook reader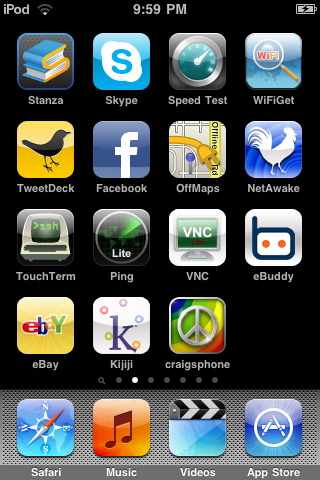 .  Followed closely by TweetDeck, a twitter client.  Skype is potentially the killer app for the Touch, if I had more people to talk to via Skype or for that matter wanted to talk to more people (twitter seems to fill that gap for me). eBuddy is a IM client, it works but I've had mixed results with it.
Let's look at some of the utilities here: Speed Test is very useful for checking the sanity of my home network.  WiFiGet (now removed from the app store) helps you find wireless hotspots.  NetAwake provides wake-on-lan functionality. Ping has both a simple telnet client, and can be used for basic network diagnostics.  VNC is a remote desktop solution.
The last few are Facebook (obvious what its for).  The last three are the shopping trio: eBay, Kijiji, and Craigs List.
So that wraps up the pseudo smart phone functionality I was getting from the iPod Touch.  Now let's see what I've been up to with Android.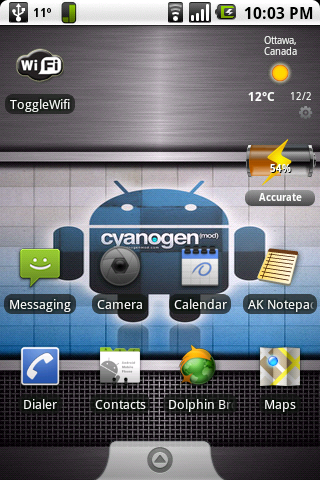 For what it's worth, all of the Android apps I have so far are free.
First up is my central home screen. ToggleWifi let's you quickly turn wifi on or off.  The upper right weather display is a widget, it also shoves the temperature on the notification bar.  Just below the weather is BatteryLeft, I find this quite useful as it estimates how much time is left before your battery runs out – saves guessing that the charge will last through your evening out or not.
Then we've got some stock phone features.  Messaging (SMS), Camera, Dialer and Contacts. Having a camera (with autofocus!) is a nice bonus over the iPod Touch.  The Calendar app is a bit ugly, but very functional and it syncs to Google Calendar which is actually pretty handy.  AK Notepad is very similar to the Notepad on the iPod (a good thing).  I replaced the default web browser with Dolphin Browser that seems both faster and has better features.  Maps is Google Maps, and includes street view.
Now we'll move over to the next screen (2nd of 3).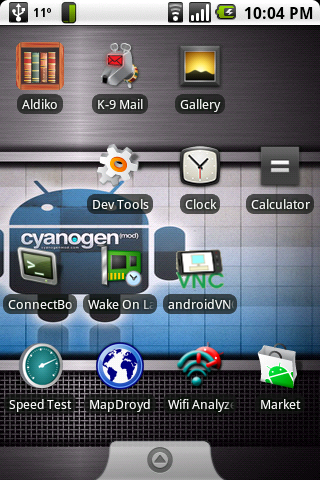 Aldiko is an eBook reader that has the same basic features as Stanza.  I'm using K-9 Mail in place of the default mail program, it is simply better.  Gallery is the built in one, and it works fine but doesn't have the same sexy gestures the iPod one does. The built in Clock is notably missing a timer.  The calculator does what you'd expect.
Looking at the bottom, you can see I have a Speed Test app, MapDroyd which is an offline map, a Wifi Analyzer and a link to the Android store.  Functions I had previously on the iPod.
In the same vein, I have my networking tools. ConnectBot (a terminal / ssh client), Wake On Lan (obvious) and androidVNC (also obvious).  Dev Tools is a neat built in for CyanogenMod letting you take a peek under the covers.
One last screen to cover for Android.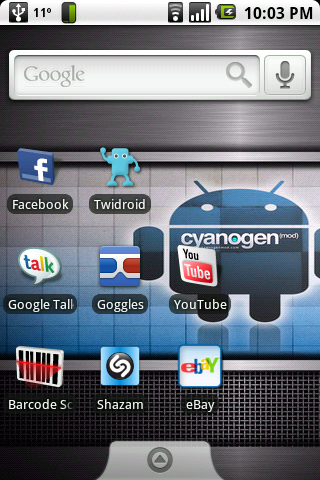 The top widget is a search bar, this is similar to Google Desktop search as it will find things on the phone as well as the net.  The microphone indicates support for voice search which works surprisingly well.
The Facebook app is not nearly as nice as the iPod version. Twidroid is rapidly becoming one of my favorite twitter clients on any device. Google Talk seems to work well enough that I haven't bothered to look for a MSN capable client.  YouTube is a great time (and battery) killer, the UI is not nearly as sexy as the iPod version but the video quality is still great.  Similar to the Facebook app, the eBay app is not nearly as well done as the iPod version.
Shazam is of limited use to me, but it is such a neat concept – it will listen to a song and identify it.  The Barcode Scanner is a must have – it can recognize QR Code as well as normal bar codes, you can also use it to create QR Codes to share apps or contact information.  Last but not least is Goggles, a visual search interface for Google – it is really cool.