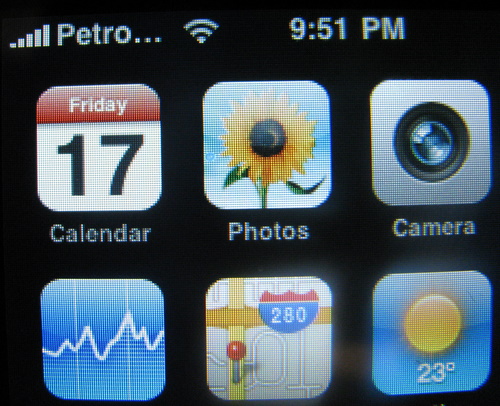 Jenn had been carrying around both her Samsung M300 and iPod Touch, far too often the phone wasn't charged. Merging the two devices into an iPhone seemed like a sensible move.  She's somewhat frugal like myself and doesn't want to carry the cost of a data plan, so an unlocked phone seemed like the best path forward.
My first step was to locate a reasonably priced used iPhone.  With the new iPhone 4 out, you can just go pay full ticket and get an unlocked version if you want.  Yet, with the new model out – there are plenty of 3G and 3Gs devices on the used market.  I watched both usedottawa.com and ottawa.kijiji.com looking for a deal.  A good price was looking like $230 or so for the 3G, and $300 for the 3Gs (the 8Gb versions).
It only took a couple of days watching to come across a 3G going for a good price and I snapped it up.  There was one small snag when the previous owner decided to wipe the phone before I picked it up, they failed to plug it into power during the wipe and the battery gave out. This meant that the phone was non-functional when I got it, but as a bonus I ended up with a lower price.
Recovering from a bad wipe (or any other snafu with an iPhone) can usually be accomplished – you need to get into recovery mode, or if that doesn't work device firmware update (DFU) mode. In my case DFU mode was what I needed. To get into DFU mode:
Plug the phone into your PC
Power it off
Hold the Home button
Hold the power/wake/sleep button
After 10 seconds, release the power/wake/sleep button – keep holding Home
Once iTunes detects the phone in recovery mode, release Home
The next step was to jailbreak the iPhone, this is necessary to install the unlock. Since I was using Windows to do this work (I didn't want to mess with Jenn's Mac) many of the how to guides didn't apply.  I found one on iClarified.com that did work for me. There is some confusion as to if you need a SIM card to allow you to jailbreak with redsn0w or not – I did not need one installed at all in order to complete the jailbreak.  I simply followed the entire guide (including step 2) as I didn't care about reflashing the 3.1.3 firmware (again).  It was easy – but pretty scary.  Read the guide completely and carefully.
After you've run redsn0w, you'll probably want to reboot your windows box.  I found that without a reboot iTunes was not happy about the phone.
Now that you've got a jailbroken phone, you can install ultrasn0w to unlock it. The version of Cydia that was installed already had the correct repository enabled, so it was just a matter of installing it via Cydia.  I did find that Cydia was very slow, you need to be patient the refresh does take forever (15mins?).
Reboot the phone, install SIM card. Tada – I'm rocking an unlocked iPhone 3G. So very tempting to install this as the boot logo.
For what it's worth, I did actually run through the entire wipe / jailbreak cycle twice. The first time something bad happened to Cydia causing it to completely fail for me. Re-doing the jailbreak worked fine the second time. One other useful resource I came across was jailbreakmatrix.com which helped me understand what options I had for jailbreaking and unlocking.
As you can see from the picture on this post, Jenn's using PetroCanada Mobile as her provider. I didn't have to do any magic to disable data usage, as the pay-as-you-go plan she uses has no data support.  There is something in the Cydia market that will let you control data usage if you need to do that. The iPhone works well as a phone, and sending an receiving text messages – data is provided exclusively over WiFi and for Jenn's needs, that's just fine.