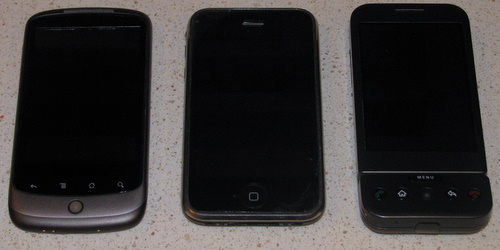 Recently one of the guys at work offered me his "old" Nexus One for a crazy price, so crazy I actually talked him into accepting more. I immediately wiped the ROM that was on there and installed cyanogenmod – for this review I'll stick to my impressions based on using the Nexus One for the first couple of weeks.
First impression: Fast. So very fast. Second impression – argh, no physical keyboard – no buttons either! Then the fact that the Nexus has so much more RAM available than the G1 did starts to sink in, and the speed – did I mention it was fast? I was sold, but really hoped that the keyboard / button thing was going to quickly become a non-issue.
The headline photo is a comparison shot of the Nexus (far left), and iPhone 3G (middle) and the G1 (right). Things get interesting when we look at the side profile.

The Nexus is the thinnest of the bunch. Let's take a look at some of the specifications
| | Nexus One | HTC G1 |
| --- | --- | --- |
| CPU | 1 GHz Snapdragon | 528 MHz ARM11 |
| RAM | 512MB | 192MB |
| Screen Size | 3.7″ | 3.2″ |
| Resolution | 480×800 | 320×480 |
| Weight | 130g / 4.6oz | 158g / 5.6oz |
Some big differences, with twice the CPU frequency and more than twice the RAM – even needing to drive the larger resolution screen isn't going to be enough to slow it down.
After a few days I got used to the 'soft' buttons for home, menu, back and search. The ROM has haptic feedback (it vibrates) when you hit these buttons. Initially the back button gave me some trouble, specifically in twitter where the reply button on screen is just above the back button – I kept hitting reply instead of back. As I got more familiar with the phone this was much less of an issue.  I still manage to hit the home button when using the track ball for some reason.
Having a real headphone jack is very nice, something I really found annoying with the G1. Having the dock to charge means no messing with cables, you just drop it in. The predictive keyboard is actually quite good, and once you get used to using it – the on screen keyboard is just fine. I still sometimes miss the physical keys, but everything else on this phone is so nice I'm willing to live without them.