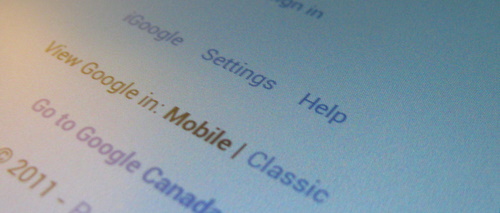 I used to be one of those that strongly believed screen protectors were not worth the money. Over time I had a series a devices which I carried with me daily with no screen protection, sure after a year or two I'd inevitably end up with a small scratch but at that point the value of the device had dropped significantly anyways. The cost of screen protectors seemed outrageous, you could buy from a brand name and pay a big price – or opt for the super cheap knock offs from eBay. I assumed the cheap ones were not worth the money as the name brand ones were 10x more expensive.
The first phone I had with a screen protector was the NexusOne. It came to me with a Zagg invisibleshield installed. The invisibleshield model was one of the ones with the self healing property and had a slightly mottled surface. This felt a little different than a naked screen, your finger had a little drag. It was easy to get used to this. I never bothered to remove the screen protector during the time I had that phone.
Readers of this blog will know that the next phone I had was an HTC Desire. This came with no screen protector. The screen showed a few tiny (nearly invisible) scratches in the Gorilla Glass screen. The scratches were not enough to bother me in day to day use. When I bought a case for the phone from eBay, a cheap screen protector came along with it. I wrote back then that I was pretty impressed with the screen protector as it felt exactly like the screen.
My current phone is a well used Samsung Galaxy S Vibrant (i9000m). It's got a few nicks and dings, and a handful of fairly deep scratches on the screen. Honestly you don't notice them in normal use, but you can see them if you look up close as should be evident in the picture below. This is the lower part of the phone close up, a lamp is reflected off the screen but hopefully the scratch marks are clear (a deep one is centered, about 1/4 down from the top).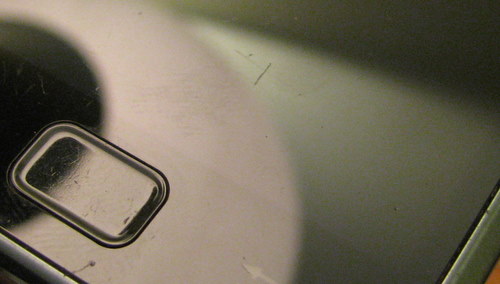 While I liked the case, it added a lot of bulk to the HTC Desire. This round I decided against a case but thought a couple of bucks was worth getting some screen protection. A screen protector can also help hide some of the existing scratches on a screen (true from my experience).
After looking around a little, I decided on an anti-glare screen. The cost was a little bit more than the clear ones, but less than a cup of coffee more. The youtube video demonstrating it also looked pretty cool. I made the purchase from eBay, but it turns out CitiGeeks has a web store and is based in Canada.
The packaging looked professional and included their logo. What was inside is pictured below.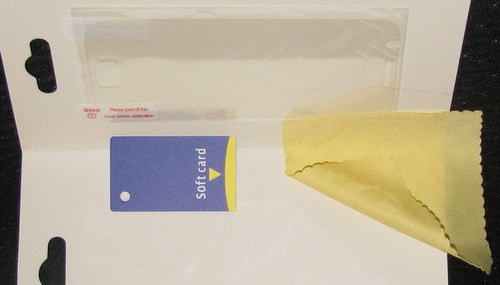 You get the screen protector, a small card that you use to prevent air bubbles when installing, and a cleaning cloth. They have very good installation instructions on their website, and a youtube video which is very helpful.
The resulting installed anti-glare screen looks very good on the phone, turning it into a matte black surface when off. You can see the anti-glare properties in the photo below giving a soft halo reflection of the light. It also does a reasonable job hiding some of the small scratches, but not the deeper ones. Again, during normal use you don't see any of the scratches.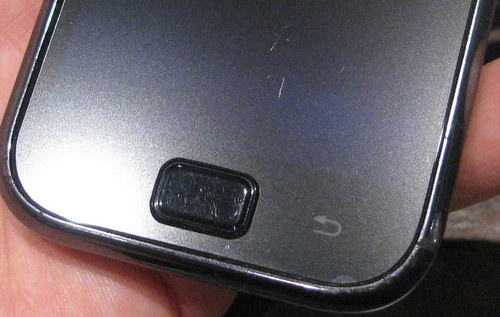 I wouldn't recommend the anti-glare screen having used it for a while. It does cut down on glare, but I find it adds a strange sparkle effect to images. If you look at the picture at the top of this post the right side of the image shows some of this as a multi-color graininess. This is difficult to capture in a picture, but is quite distracting in some situations.
I will recommend CitiGeeks. They provided a 20% discount coupon for my next order (if you search for this coupon online you should be able to find it easily). They also have pretty good email support, even at off hours. When I got my Galaxy Tab, I bought a crystal clear protector for it using the coupon and was able to get a better price than eBay. The clear screen protector is completely invisible, I had two Galaxy Tabs next to each other – one with a protector and one without – you could not tell the difference.
Low cost screen protectors do work well, and pay for themselves with the peace of mind they provide you when you accidentally toss your car keys into the same pocket as your phone. Should you get one? I think it's still personal preference, I'm sold on them but only if I can get them at very low cost.