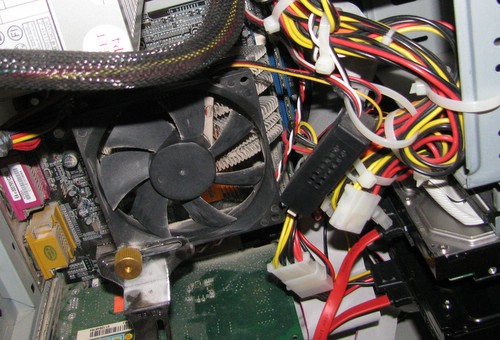 The server that hosts lowtek.ca sits in a dusty corner of my furnace room.  There are lots of good reasons to not host your own web presence, but if you are stubborn like I am you might find this interesting.
The current hardware is an AMD Athlon XP 1800+ that I bought back in 2001 – I remember it cost me a bit more than $1700 at the time. This used to be my desktop until I upgraded to a much quieter (and slightly faster) refurbished machine a couple of years ago.  For the most part I've been avoiding buying new hardware to avoid the steep price depreciation.
Last week the server machine shut itself off, two days in a row.  There wasn't much data in the logs, but poking around I'm fairly convinced that the CPU was overheating.  The sensor data claims a 23C swing in reported temperatures (55C-78C).  Either way, the machine is now unreliable in my mind and I need the server to be reliable.
While I was tempted to go the refurbished route, as I can pick up a reasonably capable system for about $100 – I really wanted to avoid getting in the same mess in a few years.  So after some amount of searching, I settled on the following components:
Total works out to under $200.  I can reuse a case (or steal one from a friend) and the drives I have already.  I do plan to measure the power consumption of my new system vs. the existing one, I'm hopeful I will get results similar to this claim of 41watts.
My thinking here is that by buying new, I'm going to have a more reliable system for longer.  The energy savings are a sensible investment over a few years, thus both the Atom CPU and 80Plus power supply make sense.  Less heat (again the Atom) should mean easier cooling, and again hopefully longer life.