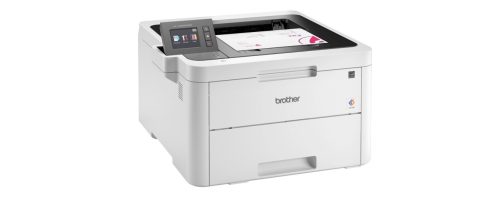 The HP 1518ni finally became too unreliable and it was time for a replacement, I was surprised to discover we bought it back in 2009 – 14 years is a pretty good run for any bit of technology. I'd done both toner refills, and aftermarket cartridges in that HP printer with fairly good success. If I was willing to toss another $100 towards new toner it probably would have gone on for more time, but far too often it would choke with the size of print jobs being sent from the various systems (32MB of RAM just doesn't cut it anymore).
I spent a while searching through various options. We've recently gotten a subscription to Consumer Reports and I used that as a source to help decide between many options. Some of the multi-function printer & scanner combinations were pretty attractive. Initially I had 3 choices I was looking at in detail.
Brother MFC-L3770CDW Printer – $599.99 – OEM and 3rd party toner options.

Canon Color imageCLASS MF743Cdw Printer – $649.00 – OEM and 3rd party toner options.
Epson EcoTank ET-2850 Printer – $399.99 – InkJet, but without the small cartridge problem.

The cost of the multi-function laser helped reduce my enthusiasm for them. The physical size of the units would have also been a challenge for the space I had currently for the printer. The InkJet option was something I seriously looked at, but after seeing an in-law's regular InkJet printout, I immediately noticed the crispness difference relative to laser on text printing. Any of these three would be good choices, well reviewed and very capable machines.
A few more options I explored.
HP Color Laserjet Pro M255dw – $484.99 – Single function, OEM toner only.
Brother HL-L3270CDW Printer– $399.99 – Single function, OEM and 3rd party toner.
Canon imageCLASS MF642Cdw Colour Laser Printer– $399.99 – Multi-function, OEM and 3rd party toner.
You'll see that my choices have pivoted to laser printers only, and at a lower overall price point. The HP was eliminated based on price, but also it seems that HP has become very hostile to 3rd party toner. Now it's not clear if Brother has also adopted a similar posture, there seems to be some evidence they have in newer firmware updates. I didn't dig too deeply with the Canon, but suspect similar hi-jinks is happening. While I understand that from a product service and support point of view only allowing OEM consumables simplifies things, I wish they'd allow you to override it as an opt-out of support choice vs. forcing you down a path.
It became a bake off between the Brother and the Canon, while they were the same price point they offered different features. I really wanted to like the Canon, despite the Brother having better quality prints as per the reviews. Both appeared to have pretty solid OSX support, where the HP did not. In the end, the physical size of the Canon eliminated it as an option, it simply wouldn't fit in the cabinet where I keep the printer.
The Brother neatly fits in the same space as the old HP. It had no problem with a wired connection and the web interface came up without any fuss.  From a client perspective, the Macs running OSX and Chromebooks also were able to connect to the printer just fine. So far printing has 'just worked' which is the ideal. I was able even to print directly from my Pixel 4a which worked surprisingly well. Having 256MB of RAM and current OS support is a huge uplift in usability.
Looking at firmware updates, I can see that the current latest version is 1.60. My printer status page says that I'm currently on: Main Firmware Version 1.33, Sub1 Firmware Version 1.14. Unless there is a super important reason to upgrade, I'll not. The security risk is minimal relative to the pain of being blocked from using 3rd party toner. I may still buy OEM toner for the first while, but having the option to use cheaper toner is attractive.