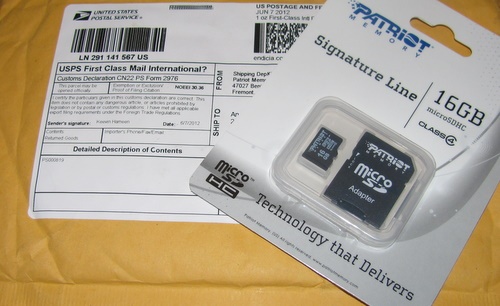 I've had various microSDHC cards from a handful of different vendors, as the prices on these plummet I've started to become more particular about the brand than the cost – I'm willing to spend a few dollars if I know I'll get good service if I need it. In the past I've written about an ADATA microSDHC card and my positive experience with their RMA department. I've also had the occasion to return RAM to Kingston which was a very slick experience.
While the warranty on the ADATA card, and the cost at the time were clear winners – the ability for the card to sustain transfer performance on large files (movies) didn't hold up to the rating claim of the card. It wasn't terribly far off, but as the price of other brands came down I've tended to shy away from ADATA.
I've had good success with Kingston and that's my go-to brand for memory at the moment, but Patriot is a very strong second. Recently my 16GB microSDHC card in my phone failed. The symptoms started with loss of files, then inability to recognize the card at all. As I poked at the bad card, I could intermittently format and write some data to it, but things were immediately corrupted or unreadable shortly after.
The RMA process was relatively straight forward. The website will direct you to contact support, who will reply via email and provide you a link to the RMA form with a case number. It was nice this was no hassle to get an RMA sorted out. The next step after the form is to send the bad card back. They provided this somewhat generic check list:
Product(s) must be securely packaged with the RMA number clearly displayed on the outside of the package.
If you have a kit, it is required to send in the complete kit to ensure compatibility.
A copy of this email confirmation with the RMA number must be included with the package.
Customers are responsible for paying the shipping charges to send the defective product(s) to Patriot Memory.
Patriot memory does not require but recommend customers to ship their product(s) with a carrier that provides package tracking and insurance for the price of the product to prevent shipping issues.
Patriot Memory is not liable for item(s) lost or damaged during transit.
Do Not Send Item in Regular Envelope. Product is prone to be lost in transit.
Any returned product(s) without clearly marked RMA number on the outside of the package will be refused and returned back to sender.
This was a bit of a bummer. A new 16Gb card is under $1 a Gb (including tax), tracking a package to the USA easily exceeds that cost. So I compromised and mailed it in a padded envelope with no tracking, the cost to me was $2.10.
The timeline on my RMA was as follows:
Friday May 4th, submit support ticket
Monday May 7th, receive reply from support redirecting me to RMA with case number
Monday Math 7th, submit RMA request online
Tuesday May 8th, receive RMA number and instructions on mailing in bad card (see list above)
Thursday May 24th, finally get bad card into postal system back to Patriot
Tuesday June 5th, request status update from Patriot
Tuesday June 5th, informed card has not arrived at Patriot
Tuesday June 7th, Patriot mails new card back to me
Wednesday June 27th, finally receive new card
I really shouldn't have had that huge delay between getting a RMA number and getting the card into the mail. The RMA is only valid for a 30 day window, I suspect I was pretty close to the cut off line or they use the post date – either way I was a little bit lucky. Beyond having a little bit of cross-border mail delay, this was a pretty smooth warranty request. I'll buy Patriot again.